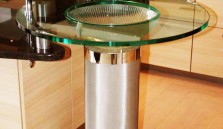 Custom Glass Pedestal Sink for Kitchen I designed this glass pedestal sink that includes a built-in garbage disposal. The pedestal is uniquely designed and wrapped with stainless steel. I also installed a floor switch to operate the disposal. The sink uses two and a half inch stainless steel stand offs, which bond the sink to the black granite counter top. With a convenient function and ...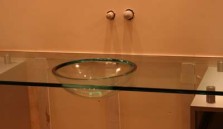 Custom Glass Sink and Counter top I designed this custom glass sink for a client who was seeking a one of a kind accent for their bathroom. As you can see from the images contained in this post, the glass bathroom sink is created by securing a large three fourths inch tempered glass ...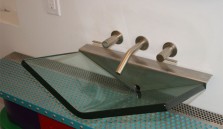 Custom Glass Sinks A bathroom is a great room to start when adding your personal touch to a home or office. It's a prime point in your space that you will visit several times a day. Why settle for designing your bathroom or bathroom sink with a solution from a large retail store when you can have something custom designed. This is often why our customers contact us. This particular custom glass sink was personally designed, crafted ...