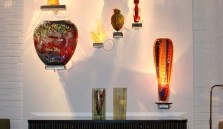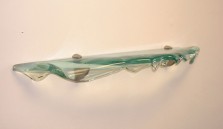 Glass wall shelves or floating glass shelves can be a really cool accent to any room in your house. If you are new to the site, Marc Konys is known for creating amazing glass pieces. One of the amazing things that he has done with glass has been perfecting the drip technique. He decided to create glass wall shelves using this drip technique. Pictured above is ...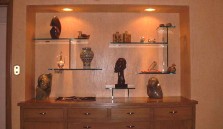 These glass shelves were created not long ago for a Marc Kony's client. As you can see, the client wanted to arrange and display several beautiful pieces of art within a room. The client asked Marc what he would do. Marc looked at the sculptures and designed the layout, the glass shelves, and the lighting. The client was delighted to see the beautiful and unique design. Marc then ...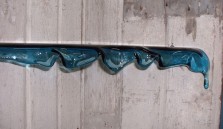 Glass Shelf Design This custom designed floating glass shelf has a functional value and a design value.  Made from blue glass with a dridding edge it has a stong statement.  It will turn any corner it to a focal point. Custom glass shelves can be designed for any room and any decor.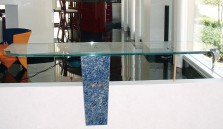 Drip Edge Glass Table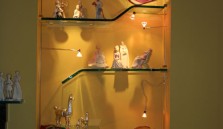 Marc was charged with coming up with a design which would both display and light these pieces of art. He met with the client and personally planned a unique glass shelving system that would help accent the artwork. He designed and installed the glass shelves and the lighting system.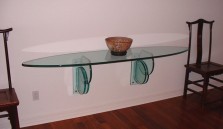 Glass wall shelf   This serving piece was custom designed  to go with an all glass dinning table I created .  The 3/4" glass oval top adds needed serving space.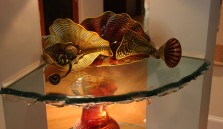 This piece was done for a client in Hilton Head, South Carolina. This is a custom design product and the price will vary based on the individual order. Please contact us for more information.
Floating Wall Shelves by Glass Artist Marc Konys These floating wall shelves were custom designed, constructed, and installed by Marc Konys.   This particular piece is made of three quarter inch tempered glass.  Marc has pioneered innovated glass designs using this type of thick and durable glass. For this piece, Marc met with the homeowner who described the challenge of displaying these cherished pictures and sculptures.  The homeowner ...
This wall unit will truly set off any collection. Your collectibles will seem to float as you display items on this unusual shelving unit. The shelves are fused to the glass panel which is secured to the wall and the floor .You can get a signed and numbered edition or custom designed floating glass shelves. Measurements 48"w X 86"h X 10"d 3/4" thick Diagram of Dimensions