Custom Designed Decorative Glass Shelf This decorative glass shelf with unique dripping edge is only possible in glass. By definition, glass is a super cooled liquid. I have designed and built a specialized kiln in order to create this dripped edge effect by custom bending 3/4" of glass. This has enabled me to make unique custom furniture, custom shelves ...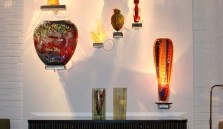 Custom Cut Glass Shelves Custom cut glass shelves can be popular accents to have in a home. A client approached Marc Konys and asked him to these glass shelves for a window in their kitchen. Marc crafted this custom glass shelves design based on the client's space and their preferences. The client loved it and Marc went ahead and ...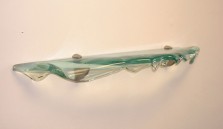 Glass wall shelves or floating glass shelves can be a really cool accent to any room in your house. If you are new to the site, Marc Konys is known for creating amazing glass pieces. One of the amazing things that he has done with glass has been perfecting the drip technique. He decided to create glass wall shelves using this drip technique. Pictured above is ...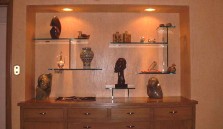 These glass shelves were created not long ago for a Marc Kony's client. As you can see, the client wanted to arrange and display several beautiful pieces of art within a room. The client asked Marc what he would do. Marc looked at the sculptures and designed the layout, the glass shelves, and the lighting. The client was delighted to see the beautiful and unique design. Marc then ...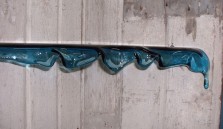 Glass Shelf Design This custom designed floating glass shelf has a functional value and a design value.  Made from blue glass with a dridding edge it has a stong statement.  It will turn any corner it to a focal point. Custom glass shelves can be designed for any room and any decor.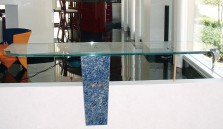 Drip Edge Glass Table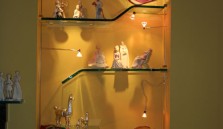 Marc was charged with coming up with a design which would both display and light these pieces of art. He met with the client and personally planned a unique glass shelving system that would help accent the artwork. He designed and installed the glass shelves and the lighting system.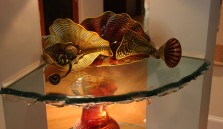 This piece was done for a client in Hilton Head, South Carolina. This is a custom design product and the price will vary based on the individual order. Please contact us for more information.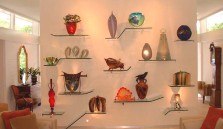 Marc was brought in to arrange these very expensive and important pieces. He designed the arrangement of the pieces, the glass shelves and built the structure so that the shelves would sit on the wall. He also designed the lighting for the pieces. Measurements 3/4" thick