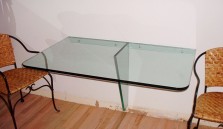 If you are looking for a Glass table or a glass coffee table, Marc has created this great one for you.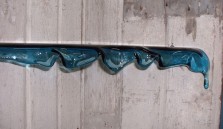 Glass Shelf Design This custom designed floating glass shelf has a functional value and a design value.  Made from blue glass with a dridding edge it has a stong statement.  It will turn any corner it to a focal point. Custom glass shelves can be designed for any room and any decor.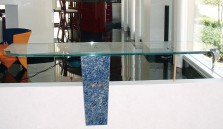 Drip Edge Glass Table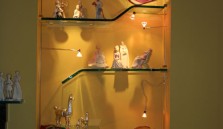 Marc was charged with coming up with a design which would both display and light these pieces of art. He met with the client and personally planned a unique glass shelving system that would help accent the artwork. He designed and installed the glass shelves and the lighting system.