Custom Designed Decorative Glass Shelf This decorative glass shelf with unique dripping edge is only possible in glass. By definition, glass is a super cooled liquid. I have designed and built a specialized kiln in order to create this dripped edge effect by custom ...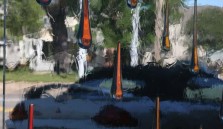 Stained Glass Art Used for Church Glass Windows [slideshow width="100" height="100"] Hard to categorize custom stained glass art, dichroic glass window design or dichroic glass blown drips laminated to stain glass (gna),thats it. Its hard to show the color change with still shots I hope to post a video of the windows "SHOWERED WITH BLESSINGS" soon and video of making the glass ...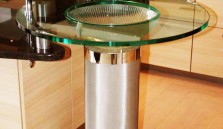 Custom Glass Pedestal Sink for Kitchen I designed this glass pedestal sink that includes a built-in garbage disposal. The pedestal is uniquely designed and wrapped with stainless steel. I also installed a floor switch to operate the disposal. The sink uses two and a half ...
Glass burning fireplace design This is a glass burning fireplace designed by Marc ...