Glass Bathroom Sink Design
Custom Glass Sink and Counter top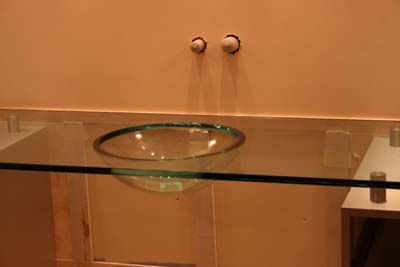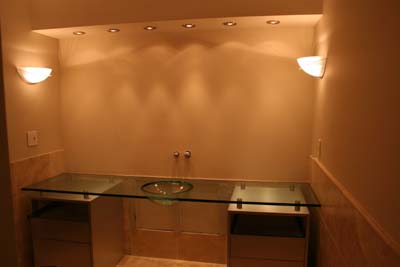 I designed this custom glass sink for a client who was seeking a one of a kind accent for their bathroom. As you can see from the images contained in this post, the glass bathroom sink is created by securing a large three fourths inch tempered glass piece to metal stand offs. The metal stand off pieces are placed under the mount of the glass sink.
All unique glass pieces created by Marc Konys Glass Design are personally designed and installed by internationally recognized glass designer, Marc Konys. He will travel to wherever you are located to view your bathroom and design you a custom glass sink. If you have questions about the process or what kinds of ideas he has for your glass sink project, please contact him through the form at right of the screen.
Marc has all kinds of innovative and unique ideas on glass bathroom sinks. Please browse our site to see what other pieces of art and furniture he has created.