Custom Floating Shelves
Floating Wall Shelves by Glass Artist Marc Konys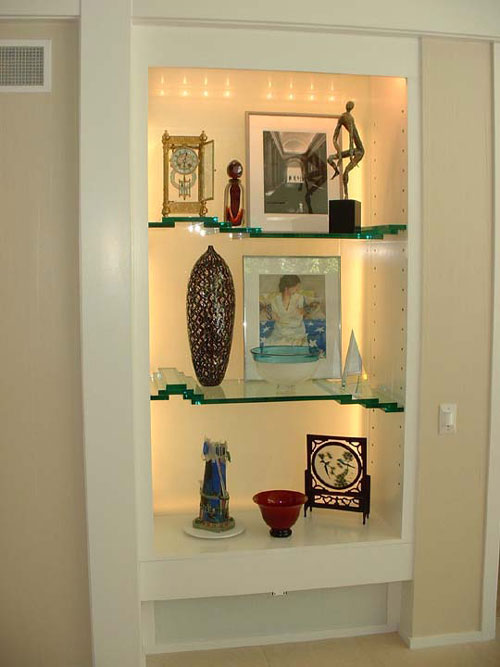 These floating wall shelves were custom designed, constructed, and installed by Marc Konys.   This particular piece is made of three quarter inch tempered glass.  Marc has pioneered innovated glass designs using this type of thick and durable glass.
For this piece, Marc met with the homeowner who described the challenge of displaying these cherished pictures and sculptures.  The homeowner wanted something unique and beautiful that would compliment the beauty of the pieces.   You'll also notice that the pictures and sculptures are lighted.  The lighting was designed and installed by Marc.  He has the ability to concept and create both glass shelving and lighting.  As stated above, Marc will personally come to your home and install the piece.
If you like this shelving or would like something similar to it, please contact us by filling out the form at right. Marc specializes in creating one of a kind glass products and he will have ideas on how to make your display unique and special.
We have designed floating wall shelves for a number of clients. This is a custom design product and the price will vary based on the individual order. Please contact us for more information.
Measurements
3/4″ thick