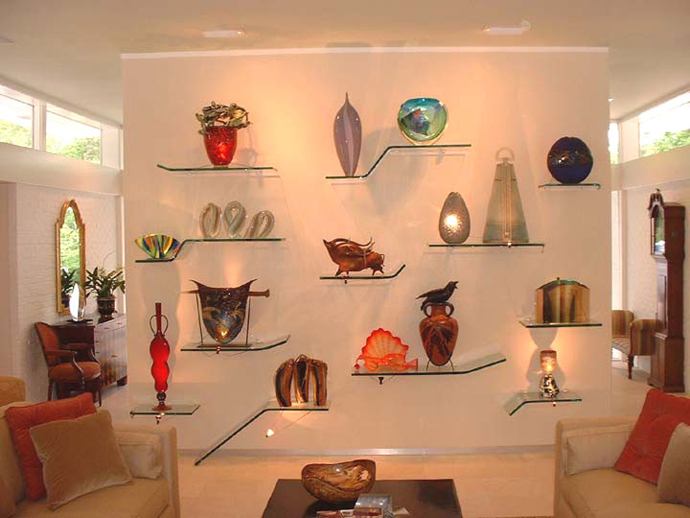 Are you looking for wall shelving that maximizes interior style while at the same time supports the need for functional storage or display?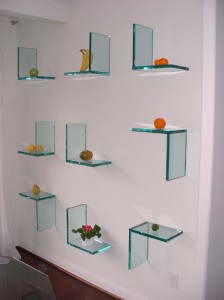 Marc Konys is a world-renowned glass artist who can develop a design for any situation. Refuse to settle for a mediocre, mass-produced floating glass wall shelf the neighbors next door could also purchase.
A master craftsman with over thirty years of experience, Marc Konys can:
Visualize a solution using thorough, professional blueprints that serve as a testament to his creative thinking;
Develop a system integrating a
plethora of styles, finishes, shapes, and colors;
Install a sophisticated, one-of-a-kind floating glass shelf system you'd be proud to featureas a focal point of any high-traffic space.
A Floating Glass Wall Shelf Can Provide Sturdy, Stylish Storage
Floating glass wall shelves are unparalleled in the display of art and can be uniquely molded to emphasize the pieces they will hold. The properties of glass can allow light to pass through and highlight the areas around the items that the shelves of this material hold.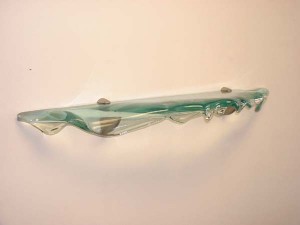 As a super-cooled liquid, in the meticulous and careful hands of Marc, your glass can be engineered to flow with surrounding architecture. Marc extends his dedication to fulfilling each of his customers' needs by travelling to install delicate pieces himself.
A floating glass wall shelf, although minimalistic in design, can be an attractive solution for holding even the heaviest of items. Marc Konys has experience working with many different techniques and thicknesses of glass.
If you are seeking to indulge your space in class and elegance, or even spruce it up with a more modern and fun feel, custom floating glass wall shelves by Marc Konys are the solution. Contact Marc today to begin creating a beautiful design together.