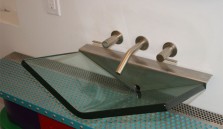 Custom Glass Sinks A bathroom is a great room to start when adding your personal touch to a home or office. It's a prime point in your space that you will visit several times a day. Why settle for designing your bathroom or bathroom sink with a solution from a large retail store when you can have something custom designed. This is often why our customers contact us. This particular custom glass sink was personally designed, crafted ...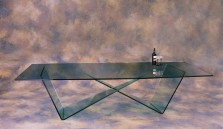 A glass conference table can be a great addition to your office. Marc Konys has designed a number of glass conference tables. The glass conference table listed above is a custom piece that he designed for a client. If you want a conference table that will make you stand out and remembered, you should contact Marc. As you can see from the other ...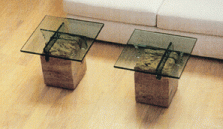 Four small coffee tables instead of two large coffee tables. This design is best for traffic. If your sitting in front of any one of the coffee tables you can still get up and get out. The coarse sand stone with a 3/4″ glass top simple and elegant. ...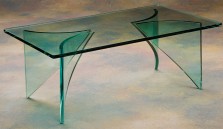 The Sails 4 is a glass coffee table designed and produced by Marc Konys Glass design. Mix up a a tropical drink and you'll be windjamming in your living room.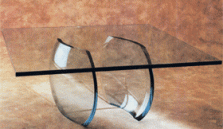 This table has two convex lenses for leg. It displays Marc's mastery of the slumping process. Measurements 36" X 36"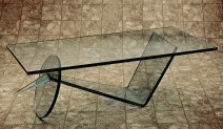 Hanna Yet another fine sleek coffee table in the Mark Konys Glass collection. This table is one piece. Measurements 28"w X 42"l X 15"h 3/4" thick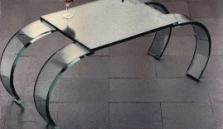 Award winning table that has been displayed at the Cleveland Museum of Art. "This is a coffee table." Measurements 3/4" thick
This wall unit will truly set off any collection. Your collectibles will seem to float as you display items on this unusual shelving unit. The shelves are fused to the glass panel which is secured to the wall and the floor .You can get a signed and numbered edition or custom designed floating glass shelves. Measurements 48"w X 86"h X 10"d 3/4" thick Diagram of Dimensions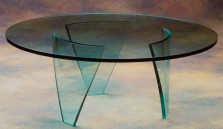 Sleek soft curves and gentle bend of the legs. Modern, sophisticated, elegant. A table that will enhance any style. The Christine II was designed to add that final touch to any room. Not an afterthought but a statement of style. A signed and numbered edition. Diagram of Dimensions
The ultimate in fluid design. This unique cocktail table gives the illusion of movement as the one corner gracefully cascades as if suddenly transformed to liquid. This table will surely become a conversation piece in your home. A signed and numbered edition. Measurements 3/4" thick Diagram of Dimensions