This elegant and simple cast glass counter top adds a design element and a very nice eating surface. Made from 3/4 " low iron glass( note the clear edge ) with a cast texture to hide finger prints. Raised up 6" off the granite top the large arc is sleek.
Custom Countertops by Marc Konys This custom countertop was custom designed for one of our clients. As you can see the top piece is mounted on a granite counter and elevated by a beautiful glass pillar. This unique piece was both designed, constructed and personally installed by Marc.  It is a one of a kind piece that was constructed ...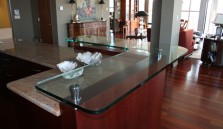 This glass kitchen countertop was exclusively created for a client by Marc Konys. The kitchen counter top features three quarter inch glass mounted on steel pillars. The exceptional piece was planned, designed and personally installed by Marc . This glass kitchen countertop could also be placed in a home bar or in any room of your house. If you like the ...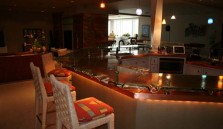 Custom Glass Bar and Glass Counter Top Design    Floating six inches over the work surface made of acid washed copper this dripping glass bar top looks like water frozen in time.