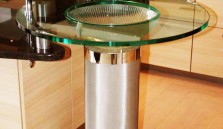 Custom Glass Pedestal Sink for Kitchen I designed this glass pedestal sink that includes a built-in garbage disposal. The pedestal is uniquely designed and wrapped with stainless steel. I also installed a floor switch to operate the disposal. The sink uses two and a half inch stainless steel stand offs, which bond the sink to the black granite counter top. With a convenient function and ...
I designed my kiln in order to make glass pieces, as pictured here, with a dripping glass edge. However, this is only one of the many things I can do with glass. I design glass furniture, glass shelves, bent glass picture walls, glass railings, glass floors, and just about anything else with glass. I ...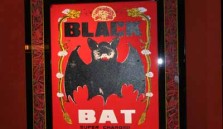 Custom Glass Frame A painting of a antique firecracker label needed a special frame . Why not a custom glass shadow box frame filled with 5000 firecrackers . I like doing things different and a special glass picture frame design project like this is the perfect fit. Need a idea how to frame something? Give us a call.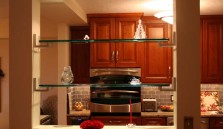 Custom glass shelves   and  custom hardware makes a real statement. I wanted to give a real floating feel to the shelves so I designed a simple bracket  that the glass shelf would just set on.  The glass shelf doesn't  go all the way from post to post it stops short. The  3/4"  thick custom glass shelves are ...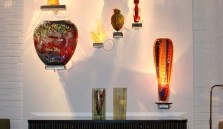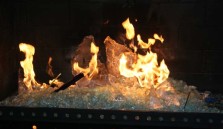 Custom Fireplaces A fireplace can be a great asset to your house. They can be the perfect accent to a room in your personal space. When decorating or customizing your home, you try to make all things your own. But what do you do with the fireplace? Are you trying to find something more dynamic for your fireplace. Are you seeking custom ...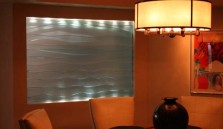 Many layers of glass create this unique wall. The fiber optic lighting adds a elegant glow.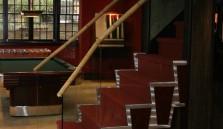 Custom Staircases by Marc Konys Glass Design I designed this glass staircase railing to open up the two rooms. The brushed metal and mahogany give a deco feeling and the bamboo keeps it fun. I also designed an art deco fireplace in the same room. If you are looking for a glass staircase railing and you want something that no one has, contact me. I can custom design a glass railing or glass staircase railing. Feel free to contact me by my ...
Glass Staircase Railing Custom glass railings blends the old and the new. This very elegant glass and wood railing gives an open and simple look. Keep it simple no spindles. I love to design glass features were you break the rules.  Most glass railing look like they are from the mall and don't belong in your home.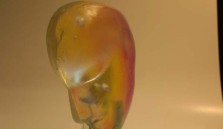 Custom Glass Awards by Marc Konys Marc was commissioned by the Cleveland Artists Foundation to create a custom glass award for the " The Visionary Collector Awards". The series of cast glass sculptures " AN I FOR ART " were presented to Elaine and Joseph Kisvardi , Frances and Seth Taft, and Raquel and Albert Wasserman5 the  Anniversary  www.clevelandartists.org The cast glass pieces with a dichloric coating which has very vibrant colors. These colors change when ...