Award winning glass artist Marc Konys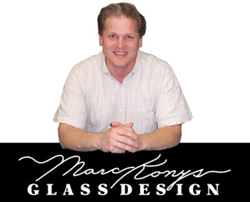 Glass artist Marc Konys is a master craftsman, artisan and award winning glass designer. Operating from his studio in Northeast Ohio, Konys has garnered praise from around the world for his extraordinary vision and expert manipulation of his chosen medium.  View this art glass artists' portfolio here.
The youngest of seven children, Marc Konys was born and raised in Cleveland, Ohio. He received his formal education at Kent State University where he was intrigued by the tremendous potential of glass. He studied under Henry Halem and was further moved by the beauty and adaptability of glass design. Inspired by this education, Konys began what would become his lifelong passion during an apprenticeship under master craftsman Joseph Breuning.
In 1978, Konys purchased the small glass business from Bruening and converted it into his design studio. Just two years after taking over the Bruening Glass Works, Konys began his own line of artistic glass furniture bearing the name Marc Konys Glass Design.
Konys' innovative designs not only redefined artistic glass presentation, but actually pushed the boundaries of what the medium is physically capable of becoming. Unhindered by the status quo of glass manipulation Marc Konys has single-handedly revolutionized the industry's expectations by creating new methods of bending ¾ inch glass pieces into fluid works of art. Konys is capable of precisely bending and bonding entire glass slates in ways that were previously thought impossible. He personally designed and constructed a kiln in his Ohio studio that, to date is the only such kiln capable of bending ¾ inch thick pieces of glass to the extreme degree that Konys utilizes in his glass designs.
Each piece in the Marc Konys Glass Design collection is testimony to Konys' unparalleled craftsmanship and creative genius. Konys has generated a significant following for his unmistakable glass forms that have been displayed in museums, galleries and exclusive invitation only exhibitions across the United States and abroad. Konys' pieces have been shown in the Cleveland Museum of Art as far back as 1987 and during a 1988 exhibit he was awarded Best of Show. The range of his popularity extends far beyond the Northeast Ohio area however, as his work has appeared in galleries in New York, Italy, Germany, and Chicago. Individual pieces of his artwork can also be found in the homes of the nation's premier art and art glass collectors. Some of Konys' most inventive works were commissioned pieces that were inspired by his unique ability to shape and mold glass.
In 2000 Marc Konys released an entire line of furniture pieces that reflect the elegance and striking beauty of the glass forms that have made his artwork so popular. Each piece beautifully illustrates Konys' mastery of glass and offers a compelling glimpse of the talent that will engage the art world in the new millennium.