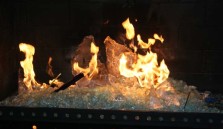 Custom Fireplaces A fireplace can be a great asset to your house. They can be the perfect accent to a room in your personal space. When decorating or customizing your home, you try to make all things your own. But what do you do with the fireplace? Are you trying to find something more dynamic for your fireplace. Are you seeking custom ...
This elegant and simple cast glass counter top adds a design element and a very nice eating surface. Made from 3/4 " low iron glass( note the clear edge ) with a cast texture to hide finger prints. Raised up 6" off the granite top the large arc is sleek.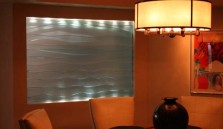 Many layers of glass create this unique wall. The fiber optic lighting adds a elegant glow.