Custom Bar Tops In the world of physics Glass by definition is not a solid it's referred to as a super cooled liquid. There is no better example of that than in this custom bar top. Like water suspended in time the liquid properties of glass create a strong design element. A slight texture was added to the glass to hide fingerprints. The glass counter top floats six inches over the acid washed copper counter top. ...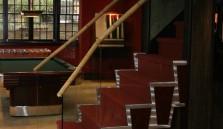 Custom Staircases by Marc Konys Glass Design I designed this glass staircase railing to open up the two rooms. The brushed metal and mahogany give a deco feeling and the bamboo keeps it fun. I also designed an art deco fireplace in the same room. If you are looking for a glass staircase railing and you want something that no one has, contact me. I can custom design a glass railing or glass staircase railing. Feel free to contact me by my ...
Glass Staircase Railing Custom glass railings blends the old and the new. This very elegant glass and wood railing gives an open and simple look. Keep it simple no spindles. I love to design glass features were you break the rules.  Most glass railing look like they are from the mall and don't belong in your home.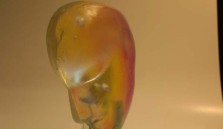 Custom Glass Awards by Marc Konys Marc was commissioned by the Cleveland Artists Foundation to create a custom glass award for the " The Visionary Collector Awards". The series of cast glass sculptures " AN I FOR ART " were presented to Elaine and Joseph Kisvardi , Frances and Seth Taft, and Raquel and Albert Wasserman5 the  Anniversary  www.clevelandartists.org The cast glass pieces with a dichloric coating which has very vibrant colors. These colors change when ...