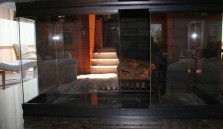 Designing a glass fireplace or finding some who does glass fireplace design can be a difficult process. A glass fireplace can light up a room especially on a cold winter night. In this project the client came to us to design a glass fireplace door. Marc met with the client and designed a unique door for it. As part of the process Marc came ...
Custom Countertops by Marc Konys This custom countertop was custom designed for one of our clients. As you can see the top piece is mounted on a granite counter and elevated by a beautiful glass pillar. This unique piece was both designed, constructed and personally installed by Marc.  It is a one of a kind piece that was constructed ...
Custom Cut Glass Shelves Custom cut glass shelves can be popular accents to have in a home. A client approached Marc Konys and asked him to these glass shelves for a window in their kitchen. Marc crafted this custom glass shelves design based on the client's space and their preferences. The client loved it and Marc went ahead and ...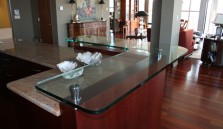 This glass kitchen countertop was exclusively created for a client by Marc Konys. The kitchen counter top features three quarter inch glass mounted on steel pillars. The exceptional piece was planned, designed and personally installed by Marc . This glass kitchen countertop could also be placed in a home bar or in any room of your house. If you like the ...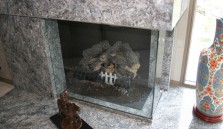 Custom Glass Fireplace Doors by Marc Konys These custom glass fireplace doors were designed for one of our clients. As you can see the glass fireplace doors compliment the beautiful room and art pieces that surround it. A fireplace can be the center of the room.   Marc Konys, a master glass craftsman enjoys the challenge of designing a one of a kind fireplace.  ...
Custom Glass Shower This is a custom shower design piece designed by Marc Konys. As you can see the background of the shower is a beautiful coral design. It's a custom piece personally designed for one of our clients. We worked with the client to develop and implement the project. We installed it as well. If you like ...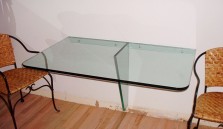 If you are looking for a Glass table or a glass coffee table, Marc has created this great one for you.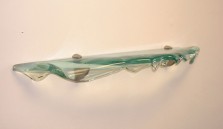 Glass wall shelves or floating glass shelves can be a really cool accent to any room in your house. If you are new to the site, Marc Konys is known for creating amazing glass pieces. One of the amazing things that he has done with glass has been perfecting the drip technique. He decided to create glass wall shelves using this drip technique. Pictured above is ...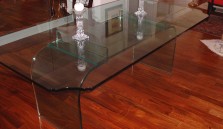 Unique Coffee Tables by Marc Konys Glass Design Marc created this unique glass coffee table specifically for one of our clients. You can see that the table features a bent glass frame. Marc does this with three quarter inch glass and is one of the few people in the world who can do this with glass that thick. Our process is to work with ...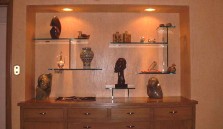 These glass shelves were created not long ago for a Marc Kony's client. As you can see, the client wanted to arrange and display several beautiful pieces of art within a room. The client asked Marc what he would do. Marc looked at the sculptures and designed the layout, the glass shelves, and the lighting. The client was delighted to see the beautiful and unique design. Marc then ...